Venue Information
The University of Queensland, St Lucia Campus, St Lucia
The IEEE MDM 2014 - 15th IEEE International Conference on Mobile Data Management conference will be held at The University of Queensland's St. Lucia campus in Brisbane. A full map of the campus is available here.

The various conference activities including plenary keynote sessions, conference and workshop paper sessions, and the panel session will be held at the venues stated in the conference program: Abel Smith (Building 23) and Sir Llew Edwards (Building 14).

The Conference Secretariat, registration, coffee breaks and lunches will be in the Holt Room (Building 21C).

The map below shows the location of the three buildings to be used during the conference. The map also shows how to get to the conference venue from the CityCat ferry terminal at The University of Queensland. The CityCat service is the recommended type of transport for conference participants whose accommodation is in the Brisbane city centre. To reach the conference venue from the CityCat terminal is a short walk up Blair Drive and into Union Road as indicated by red arrows in the map (alternatively follow the road signs to the Student Union Complex).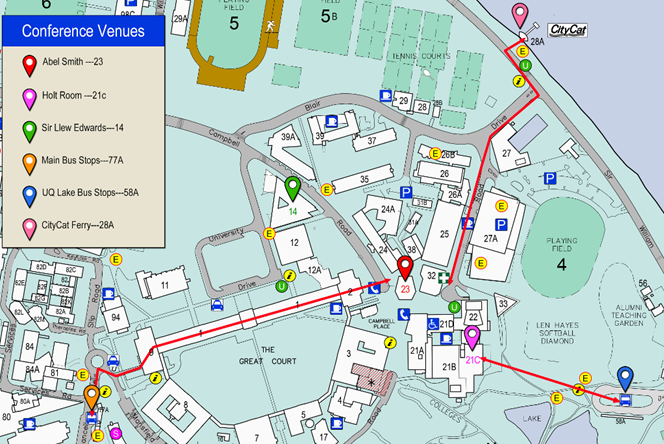 A full map of St. Lucia campus is available here.
HOW TO GET TO THE UNIVERSITY OF QUEENSLAND
CityCat Ferry
A pleasant way to reach The University of Queensland from the city centre is via the Citycat ferry service (see CityCat videos). Ferries run from 5.30 am until 11.30 pm. Conference participants who board a Citycat ferry in the city centre (North Quay or Riverside stops) should choose a Citycat stop that indicates the direction of the University of Queensland (UQ). The trip from North Quay to UQ takes around 22 minutes.
Please see the map and the CityCat timetable.

An excerpt from the CityCat timetable, shown below, gives a few morning CityCat trips to The University of Queensland:
Board at North Quay
7:45
8:00
8:15
8:30
Arrive University of Queensland
8:02
8:22
8:37
8:52
Tickets can be bought on-board (cash needed) and timetables are also available on-board. The ticket price is $6.10 (if go-card is used then the tickets will be around 30% cheaper).
Other ways to get to UQ
Take bus 66 from King George Square or Roma Street in the City Centre to UQ Lakes or buses 411 and 412 from City to the UQ Main bus stop (Chancellor's Place station). For more info on bus maps and timetables, please check here.
For more info on bus maps and timetables, please check here.
Useful Links
OTHER USEFUL TRAVEL INFORMATION
Official 'The City' website – www.bnecity.com.au (The official tourist link to Brisbane City)

Brisbane Greeters
Brisbane Greeters reflect our city's warm and welcoming heart. They are locals who love living here so much that they are enthusiastic about introducing you to our city and sharing their intimate knowledge. Greeters are very familiar with the interesting locations and hidden corners across the areas that bring our beautiful city to life. We have more than 100 Greeters (who speak over 20 different languages) ready and waiting to warmly receive you here in Brisbane. Enhance your visit to Brisbane by booking in a Brisbane Greeters program.

Brisbane Airtrain Conference Offer With Airtrain's fast and reliable service, you can reach Brisbane City from the Airport in just 20 minutes. An AIRTRAIN LETTER will be provided to all successfully registered delegates to avail of the conference airtrain discount.

Parking in Brisbane city Brisbane city offers a number of parking options to make your commute easier. Plan ahead by viewing the range of parking locations.

Brisbane Handy Tourist Apps Brisbane Marketing has collated a number of recommended apps for smart phone savvy delegates. These apps cover everything from maps to wining and dining to public transport and are useful resources for anyone visiting Brisbane. Application availability and pricing are subject to change. For more information, click through to the App Store.


Airtrain
This timetable shows all services for Brisbane's Airtrain between the Brisbane Domestic and International Airports and the Brisbane CBD and Gold Coast.
Black & White Cabs Brisbane
Book your taxi directly into the dispatch system & jump the often busy telephone queue when booking your cab.
Brisbane Night Life
Brisbane Bars and Pubs - a guide to the best bars, pubs, jazz venues, hideouts and everything about Brisbane's night life.
Brisbane Airport
The App allows you to easily look up flight information for departures, arrivals, parking, shopping and dining, terminal maps, security information, and explore places and things to do in Brisbane and beyond.
Brisbane Offline Map & Guide
Brisbane Offline Map & Guide helps you to explore Brisbane, Australia by providing you with full-featured maps & a travel guide that work without internet connection.
Go Brisbane
Complete Brisbane public transport information in your hands.
The Foodies' Guide to Brisbane
Discover the city's best-kept food secrets with The Foodies Guide to Brisbane.
South Bank Pocket Guide
The comprehensive South Bank Pocket Guide App is packed with the best information on what to do and where to go at South Bank, Brisbane.